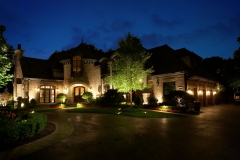 Landscape Design Lighting
When you have a beautiful, lush garden, you get tremendous joy from looking at it and being outside in your yard. But many homeowners lose out on half of the enjoyment because they do not have sufficient lighting to see and use their garden at night.
Proper landscape design lighting can transform your home's facade into a dramatic showcase, provide safety on pathways, highlight trees and other plants, and make patios and outdoor rooms warm and welcoming for you and your guests. It can add color, drama and beauty to your home and garden and enlarge the area you can use for entertaining.
We recommend LED lighting for your landscape design needs because outdoor LED lighting elements come in a variety of types, colors and sizes, last a long time (25 times longer than regular bulbs) and run economically. In fact, LED landscape lighting uses 90% less energy compared to regular landscape lights, an incredible savings! LED lighting is not only good for the planet; it's good for your pocketbook too.
Jaguar Garden Designs uses FX Luminaire LED lighting, the top quality landscape lighting provider. FX Luminaire provides a 10-year warranty, compared to most other companies, which only offer a 6-month limited warranty. This long warranty not only shows that the company has confidence in the quality and durability of its products, but it also protects you from potentially costly repairs and replacements should anything happen down the road.
FX Luminaire LED lighting systems is so versatile that they open up a whole world of possibilities for your outdoor space. They enable you to use a variety of different colors to add art and interest to trees, shrubs and structures, and remote dimmers to set a mood by adjusting the brightness of different lights from inside your home. You can even control your lighting system from your smart phone or tablet through their app, making your FX Luminaire system part of your connected smart home.
Here are some beautiful ways that you can use LED lighting to transform your home and garden:
Best face forward – Spotlights shining on your house's façade add drama and curb appeal. If your house has interesting stonework, other wall texture or feature like imposing columns or door, lighting can draw the eye there. Extending the lighting into the front landscaping softens the look and adds dimension.
Highlight a striking architectural detail or tree – Use up lights to bring attention to a special part of your house like a copper patio ceiling detail or a widow's walk. Lighting trees from below emphasizes the trunk and lower branches, transforming them into dramatic sculptures at night. A good rule of thumb is to use warm color lights on man-made objects and cool colors on plants.
Light the way – You can use a combination of stake lights and up lights on trees, statuary and shrubs along a pathway to define the parameters of your path and make it easier to navigate at night. Don't feel obligated to use all the same kinds of lights. A mix will give you a softer look and will avoid having your path look like a runway.
Artificial moonlight – When you place cooler color lights high up in trees, you create a softer, greener glow, called moonlighting. This can be done with trees out in the yard or nearer in to create a cozy indirect light on patios and sitting areas.
Hardscape lighting – Light up barbecue areas, walls and other hard structures with outdoor LED tape. It will stay mostly hidden, shedding a nice down light to emphasize edges of the structure.
Glowing water features – To really make waterfalls and fountains pop at night, you can install lights that glow from within the water as well as up lights. Or, for a more natural approach, use a more subtle down light at the top of your waterfall or at the edges of your pond.
At Jaguar Garden Designs, we are experts in designing and installing beautiful landscape design lighting. Contact us to discover the possibilities, and extend the enjoyment of your outdoor space.