South Florida's Best Water Features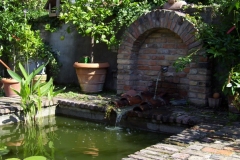 Jaguar Garden Design designs and builds beautiful water features in Boca Raton, Deerfield Beach, and Delray Beach. Our landscape and garden design experts have successfully created amazing water features such as koi ponds, garden fountains, backyard ponds and more. Call us today for any of your backyard water feature needs.
Types of Water Features and Fountains to Enhance Your Landscape
Koi Ponds and Water Gardens – Jaguar Garden Designs has developed and installed beautiful Koi ponds and other water gardens for our clients in Boca Raton and other areas of Palm Beach and Broward County. These beautiful backyard garden ponds are great for living things like Koi, other fish or aquatic plants. Match your garden pond with a backyard water fountain and you'll be in heaven!
Waterfalls – You don't need a water garden or pond to feature a waterfall in your yard. We design and build backyard waterfalls of all types, including pondless waterfalls. Having a waterfall in your yard or community not only looks beautiful on its own, but adds the soothing sounds of falling water to create a peaceful environment.
Bird Baths – Birdbaths are a great addition to your garden and a great way to attract delightful wildlife that you might not otherwise see. When designed properly, your birdbath will not only look beautiful on its own, but the birds that will be drawn to it can be amazing as well. A stand-alone bird bath or one that is a part of your garden design is a great way to add depth and an additional feature to your landscape design. Let Jaguar Garden Designs help come up with a design and plan for your birdbath installation.
Why Choose jaguar Garden Designs for Your South Florida Water Features?
Jaguar Garden Designs has over 25 years of experience of designing and construction beautiful landscapes in Europe and the U.S., including all sorts of amazing water features. Whether you want a relaxing meditation water garden, a Koi pond, waterfall or another type of backyard water fountain, Jaguar is your number one choice for all water features. Call us today at (561)-699-0653!