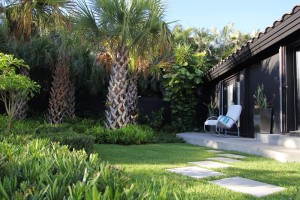 The field for commercial and residential landscape design is booming because proper maintenance can provide a number of benefits. From landscape design providing a benefit as simple as a nice surrounding to advantages like allowing for a more inviting area, residential landscape proves to be great and popular in society.
One of the more obvious benefits of having a residential landscape design service includes that there is regular maintenance for the yard. This can be important for the purpose of preserving nature and keeping both the front and back of the home looking sharp.
Beautiful Landscape Design Positively Changes The Atmosphere of Your Yard
Residential and commercial landscape design can also positively impact people who see the location. Having a beautiful landscape design can lift an individual's mood. Not only this but the beautiful area can cause feelings of peace and tranquility depending on the type of design. Art has this unique effect on people, and garden design is certainly artistic. Adding a beautiful birdbath or water feature to your backyard can transform it from a regular backyard to a peaceful meditation garden. Let us help design your yard and we can even add the right plans so that you can have a butterfly garden!
Create an Inviting Area With the Right Landscape Design
Landscape design can allow for areas to be section out and for a clean, clear-cut environment. As a result, the setup can be inviting towards guests or even offer a space that is play-friendly for children.
Landscape Design Enhances Creativity & Awareness
Because of the artistic nature of landscape design, creativity and awareness are heightened upon viewing. This can be ideal because an artistic landscape design can impact your mood in a good way! There's a reason behind the saying "stop and smell the roses" and it has nothing to do with the fact that viewing the beauty in nature can allow for people to see how wonderful life can truly be.
Landscape Design Provides Structure to Your Property
When done properly, a beautiful landscape design can add structure to an otherwise flat and unappealing yard or workspace. Rock walls, trellis, and waterfalls can all make your property beautiful when designed by a professional landscape design company such as Jaguar Garden Designs. You as the homeowner can identify your personal preferences and the setup of the landscape design can be created accordingly. Whether you need bushes to fence off a section of the home, want to add more color to the home by using different types of flowers, or create different spaces in the back and front of the yard, landscape design can prove to be essential in providing structure.
Benefits of Commercial Landscape Design
When it comes to commercial landscape design and maintenance, there are more than one reasons for why it's so essential. Not only does a beautiful commercial landscape design look good for the business, but it also promotes pleasant feelings and showcases the care put into all aspects of your business.
Create a Great First Impression With Your Landscape Design
A major advantage of commercial landscape design is that it provides the best first impression for people coming to the business or environment. If the landscape looks exceptional, clean and well-maintained, then viewers may come to the conclusion that this is a professional location. Visual presentation is important, especially for businesses! You won't get the same reaction from a first time customer coming to a business where there is no upkeep of the lawn or surrounding plant area as you will from someone viewing a well-maintained landscape design in front of a business for the first time.
Good Upkeep Shows Care & Attention to Detail
Not only does proper, regular commercial landscape design and maintenance allow for a great first impression but it also can show that the business or commercial location is aware of how important each detail is. When a commercial location has a nice landscape design, it can easily be interpreted that the management cares. To promote good judgment from others, it can be a great idea to have a professional commercial landscape design.
Landscape Design Promotes Relaxation
Having a well-created landscape design can invite positive feelings and even promote relaxation. So, if a garden design can positively impact the mood, why wouldn't everybody want the most beautiful, cared for landscape design in town?
All in all, landscape design can provide an extensive amount of benefits. Whether for residential or commercial landscape design, Jaguar Garden Designs is here to help by creating clean, unique, beautiful garden designs. With an incredible team of garden designers, all of the projects done by Jaguar Garden Designs in South Florida are high in quality because we pay close attention to every aspect and are meticulous with every detail. When you need commercial or residential landscape design, you can trust in the services from Jaguar Landscape Design.