Container Gardens and Container Garden Designs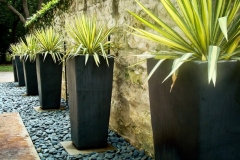 Container gardens are the perfect solution for small spaces and to add color, height, and texture to patios, railings, and decks. They can also be incorporated into the rest of your landscaping as a focal point. Jaguar Garden Designs is a full-service landscape and garden design company specializing in container gardens and container garden designs in Boca Raton, Deerfield Beach and Delray Beach.
We have a variety of container styles to choose from, including Mediterranean style pots, traditional terracotta, sleek contemporary planters and much more.
Contact Jaguar Garden Designs to plan your container garden online or by phone at (561) 699-0653.