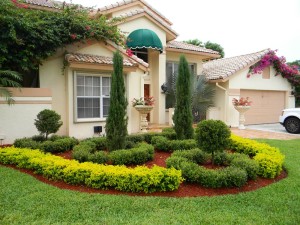 Jaguar Garden Designs provides full-service landscape design, landscape installation and garden design in Delray Beach and other areas of South Florida such as Boca Raton. Our team of expert landscape designers and garden designers have over 25 years of combined experience that they put into each and every job.
Our team works with the surrounding environment, including buildings and structures to build beautiful landscapes and gardens that add to your home or business. We service residential homes, communities and commercial properties as well. No matter where you live – Delray Beach – or elsewhere in Palm Beach County or Broward County, let the team at Jaguar Garden Designs enhance your property with beauty, shade, color, and fragrance. We have extensive knowledge in native South Florida plants as well as plants that are compatible with the environment and we can work with you to create your dream landscape in Delray Beach.
Delray Beach Landscape Design & Garden Services
Landscape Design, Renderings and Drawings – We have many customers in Delray Beach and we always start off by creating renderings and drawings of what your finished landscape or garden job will look like. We make sure that the customer is happy with the design before the installation is started.
Landscape Installation – As we just mentioned, we make sure our customers are happy with the design before we install it, but they are always amazed when we are done with the landscape installation. It is one thing to see it on paper, but when our customers see the finished project when it exceeds their expectations they couldn't be happier!
Water Features – We have designed and installed some of the most beautiful water features in Delray Beach and the surrounding areas. Whether you are looking to attract a bird or just want the soothing sounds and appearances that come along with a beautiful water feature, contact Jaguar Garden Designs today.
Trellises – Looking to add a beautiful structure to your property for your native South Florida plants to grow through, on and around? Let us design and build you a trellis for your patio or garden area that is sure to provide you with beauty and shade.
Organic Garden Designs – Delray Beach residents love their gardens, and our organic garden design team takes the environment into consideration. We will design and install an easy to maintain organic garden which is sure to add beauty to your home or property.
Specialty Gardens – Our customers love our specialty gardens! Whether you are looking to add a butterfly garden, a scent or meditation garden, vegetable garden or all of the above, we can do it for you!
Landscape Lighting – We work with homeowners and contractors in Delray Beach to design and install beautiful landscape lighting that adds beauty and security to your home at night. Check out some of our photos to see beautiful landscape lighting jobs that we have done.
Container Gardens – We create beautiful container gardens which are an excellent way to add color, height, and texture to small spaces such as patios, railings, and decks.
Irrigation, Sprinkler Repair, and Management – Once you have your landscape or garden design project complete, proper maintenance and watering are important to keep it looking beautiful. Jaguar Garden Designs provides irrigation services in Delray Beach such as repair, installation, and management.
Landscape Maintenance – We also provide general and specialty landscape maintenance services for residential homeowners, businesses, and luxury communities in Delray and Boca. To keep your property looking nice year round, choose Jaguar Garden Designs!
Reasons for Garden Design and Landscaping in Delray Beach
Have you been looking in awe at your neighbor's new garden design in Delray Beach and wondering how you can create your own landscape design? The answer for you could be turning to a landscape designer near Delray Beach, like Jaguar Garden Designs, so you can have your own beautiful professional landscape design.
Benefits of Getting a Landscaping Design in Delray Beach
Garden design and landscaping in Delray Beach is important for a number of reasons. Aside from its enticing and glorious appearance, the formation of a garden design holds many benefits that push residential homeowners and commercial retailers to find a landscape contractor near Delray Beach.
Landscape Design Helps Maintain Nature
There are too many residential homes, commercial locations, and general places where nature has been stripped! If you want to add more green and bright colors near the place you work or reside, then having a professional landscape design can actually help invite nature to grow. A good landscaping company can add any needed bushes, plants, or trees to an area. Professional landscapers should also be good about what is being cut down or worked around so that the environment supports nature and promotes a more enticing look.
Designated Areas are Closed off by Landscaping and Garden Design
Another great benefit of professional landscaping design is the fact that it can block off particular areas. This is ideal for all school backyards, churches, private residential communities, corporate buildings, and secluded residences. Hilled areas can even be adjusted with stone walls, gravel, and pavement to allow trees and plant life to be in a specific place. This is also good for creating more room outdoors but closing off wooded areas at the same time.
Garden Design Sets the Mood for Atmosphere
Whether you are aiming for a subtle garden for your home, want to create an additional outdoor lounge, or want an alluring walkway, a garden design can set the tone for your home or business. Creating an atmosphere outside with a simple landscaping garden design can transform the entire feel of the location. Whatever mood you are trying to set can be accomplished.
Landscaping Can Create a Comfortable Location
If you are hoping to make your home or work location more comfortable and have been thinking about turning to a landscape designer in Delray Beach, then adding water fountains for gardens, a floral garden design, or walkway with landscaping could be your answer. There are several unique ways of creating a more inviting, comfortable place for you, your family, and friends to relax in. Landscaping is great for this because it completely changes the scenery and can make it more alluring.
Gardening Helps Create Additional Outdoor Capabilities
If you have ever seen tea lights hung on outdoor bushes or swings in gardens, then you can understand how garden design helps create opportunities outside. By using a specific garden design to keep bushes near a walkway, by a patio, or in a certain place, the potential for a new setting is created. Tea lights, party streamers, holiday lights, and more can be strategically paced to introduce a new concept to your front yard, backyard, or outdoor area. Even having a swing set or single swing near or inside a garden can create a special, quiet, or exciting place.
Turn to Jaguar Garden Designs for All Your Delray Beach Landscape Design Needs
If you want to move forward with making your idea for a garden design in Delray Beach a reality or want to discuss your landscaping options for your home or commercial location, then you should work with a Delray Beach landscape contractor who knows best, such as the contractors from Jaguar Garden Designs. Creating the most appealing, practical and well-executed garden design is important to us because we know scenery should be beautiful for all who see it. To go over a concept for landscaping near Delray Beach, contact Jaguar Garden Designs today.
Check out our gallery below to see some of our work or give us a call today at 561-699-0653 to discuss your landscape or garden design and installation needs today!