Container Garden Design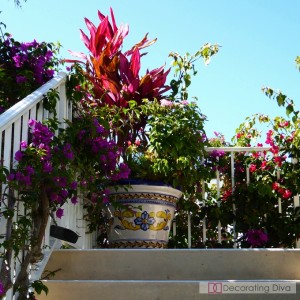 Have you considered adding planters to your landscape plans? Container gardening is an easy way for novices to try gardening or for you to create a beautiful focal point, highlight or border to complement your patio and other outdoor areas. Some popular places for containers are:
– Next to your front door – Use plants that do well in shade. Topiaries in matching planters on both sides of your door are a nice choice for a formal look.
– On the border of your patio or deck – Containers can enhance your patio area and make a soft transition from the paved area to the planted parts of your yard. You can use just about any kind of plant for this purpose including small trees, shrubs, flowers and edible plants.
– Under windows – Window boxes are a lovely way to bring the beauty of nature closer to the house. Flowers and herbs contribute greenery, color and fragrance.
– As a feature of a plant bed in your yard – Use one or several planters along with your regular landscaping to add interest.
Easy
All you need to get started with a container garden or a container garden design idea is planters, potting soil, and seeds or plants. Not sure how much sun the plant needs? Just move it until you find a spot where it grows well. It is also requires far less weeding and little digging since potting soil is very loose and uniform, unlike our rocky South Florida soil.
Endless design choices
Containers come in all kinds of different styles, from modern to traditional to whimsical.
Use similar size pots for a uniform look or create interesting groupings of varied sizes of containers.
Fun
Because container gardening is so easy and you
Don't limit yourself to just smaller plants in containers. Citrus and other trees do well too.
can put the containers close to (or even inside) your house, they are fun and stress-free.
Children like to garden with containers, especially when they can eat what they grow!