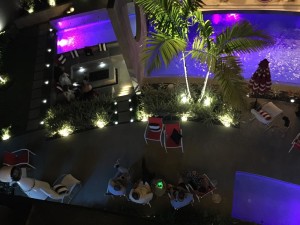 Have you ever considered adding something extra to your backyard to make the garden design really pop? When your property has a beautiful residential landscape design, you should consider getting landscape design lighting to highlight specific areas. Not only will it look beautiful, but garden design lighting provides a number of benefits.
Benefits of Landscape Lighting Design
If you stop to think about lighting for landscape design, then you will realize that there are a number of benefits that the feature allows. When it comes to setting a tone for your garden, allowing more visibility to your landscape design, and providing safety, lighting is a great additional feature for your backyard.
Landscape Lighting Allows You to Set The Mood
An important feature that landscape design lighting provides is the ability to create the mood you want for your front or backyard landscaping. Using specific garden design lighting in your front or backyard can transform your outdoor landscaping into a more inviting, romantic or vibrant setting. Using LED lighting in your garden can provide a sense of beauty, but also provides the benefits of energy efficiency and durability! Colored lighting can really change the atmosphere of your property and is great to have during the holiday season for the perfect festive feel!
The Right Landscape Lighting Design Provides Direction
An obvious but still valuable benefit of landscape design lighting is that it can provide a path for direction or even just simply allow you to be able to see! If you are a fan of staying out on the porch, deck or patio at night, then you may particularly like landscape design lighting because then you will not only be able to relax in the evening but you will also be able to see the beautiful garden you have in your backyard. Lights can really put emphasis on the beauty of flowers, bushes, and garden statues so you can see your beautiful land even when it's dark out.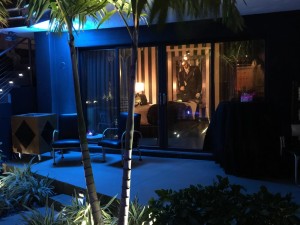 Landscape Lighting Maximizes Safety and Security
Whether you want to make sure your dog can run outside in safety or feel protected yourself, landscape design lighting can be a great way to ensure a feeling of safety. You can choose to have lights highlight pathways, light up the outside of your home, or provide light to darker spots on your property. This will allow you to see your property better so that you can tell if there is anything suspicious happening on your property.
Have Jaguar Garden Designs as Your Landscape Design Team
Being the #1 landscape lighting company in South Florida, Jaguar Garden Designs has a team of the best landscaping professionals that can transform your backyard into a glowing, bright masterpiece. There is no landscape design lighting project that we can't handle. We would love to discuss your ideas for your next landscaping project, so contact Jaguar Garden Designs today at 561-699-0653.