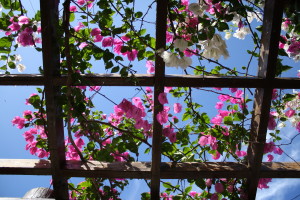 Do you have a plain looking wall that you would love to see clothed in greenery and blossoms? Perhaps you have an open fence and you want to create more privacy in a beautiful way? In either case, climbing plants are a wonderful choice. Many South Florida flowering vines like passionflower vines attract butterflies and some, like jasmine vines, give off a heady fragrance.
There are three types of climbing plants: twiners, clingers and leaners. The twiners are what you would normally think of when you think of a vine. They send out stems that wrap around trellises, fences and other surfaces. When they first start to send out their new growth, all you have to do is place the stems near what you want them to attach to, and they will do the rest of the work. Mandevilla and Confederate jasmine fall into this category.
Clingers like ivy have little tendrils that attach themselves to flat walls, trees and walls. They can make the wall of a house look like it is made of leaves. South Florida clingers include monstera vine, creeping fig and golden pothos.
Leaners are plants with long stems that can be trained into covering a wall or fence. Bougainvillea and allamanda are examples of leaners and can also be grown as shrubs or small trees, depending on how you trim them. To get a leaner to cover where desired, just use green tie tape to tie each stem to the fence at key spots. In the case of bougainvillea, be careful; they have sharp thorns!
If you don't have a surface that you want covered with climbing plants, or if the plant you want to use doesn't attach well to that surface, you can install structures or supports for your climbing plants to climb.
Support for Climbing Plants
One type of support for climbing plants are trellises which are basically flat latticework that is set up vertically and is usually made out of wood or plastic. They can be freestanding to serve as a privacy screen or attached to a wall or fence. Plant your climbing plants at the base, and train to climb up either by lacing early stems through the openings or attaching with garden twine or tie tape.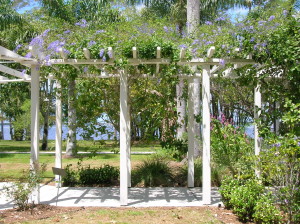 Arbors are used at the entrance to a yard, garden or special area. They are usually freestanding open doorways, with latticework on the sides and top. Plants are planted on either side, climb up and cover the top to make a pretty portal.
Pergolas are generally larger structures, with horizontal trelliswork supported by columns or posts. The idea is that the plants are planted next to the posts, climb up the posts and then form a roof overhead. Pergolas create a dappled shady area underneath to sit in and can also be used as a wedding canopy.
Using climbing plants creates a whole new dimension to your yard and allows you add greenery and colorful flowers in places you never had them before. Arbors and pergolas allow you to create whimsical and delightful outdoor rooms and distinct areas within your garden.
Jaguar Garden Designs can help you add these lovely elements to your outdoor space, whether you want to enhance your privacy by covering a fence, make a living entryway or create a serene shaded sitting area. Contact us to get started.